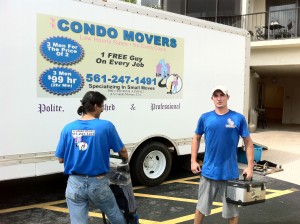 AA Condo Movers. Owner operated professional moves at a low cost. Specializing in small moves. Clean trucks, Clean movers, "Polite, Polished & Professional."
Our whole purpose is to eliminate the BIG move. Not to charge the "big house" full day moving rates all other company's charge for all moves no matter what the size big or small.
We're bringing out a guy for free on every job! (2hr minimums) To ensure a quality move we're staying within our limits 2-3 trucks out per day…
We have great managment, trusted drivers, and experienced movers. 1 truck can complete three jobs in a day allowing three trucks to cover a wide span. An innovative mover with reasonable rates a price for anyone.
WE'RE POLITE, POLISHED & PROFESSIONAL…SPECIALIZING IN SMALL MOVES!!